Dermalactives Reviews : Do These Products Work?
Overview:
If you ever dream of using one of the most expensive skin care brand on the planet, you're served with Dermalactives! No kidding! One eye lifting set costs around 700 USD! I know what the next question is: does the products worth the price? The review below will bring an answer to these questions!
What Is Dermalactives?
As sais above, this skin care brand is classified as a high end luxury one. The company claim to manufacture anti-aging products while incorporated them with 24K gold.  What's the point of incorporating Gold into natural skin care products?
The truth is many people believe Gold shows excellent properties when it comes to skin care. Studies are not conclusive to show that Gold can reduce wrinkles and deliver anti age appearance to people using it. We all know Cleopatra seems to have used Gold with her purifying facial peel but that's another question.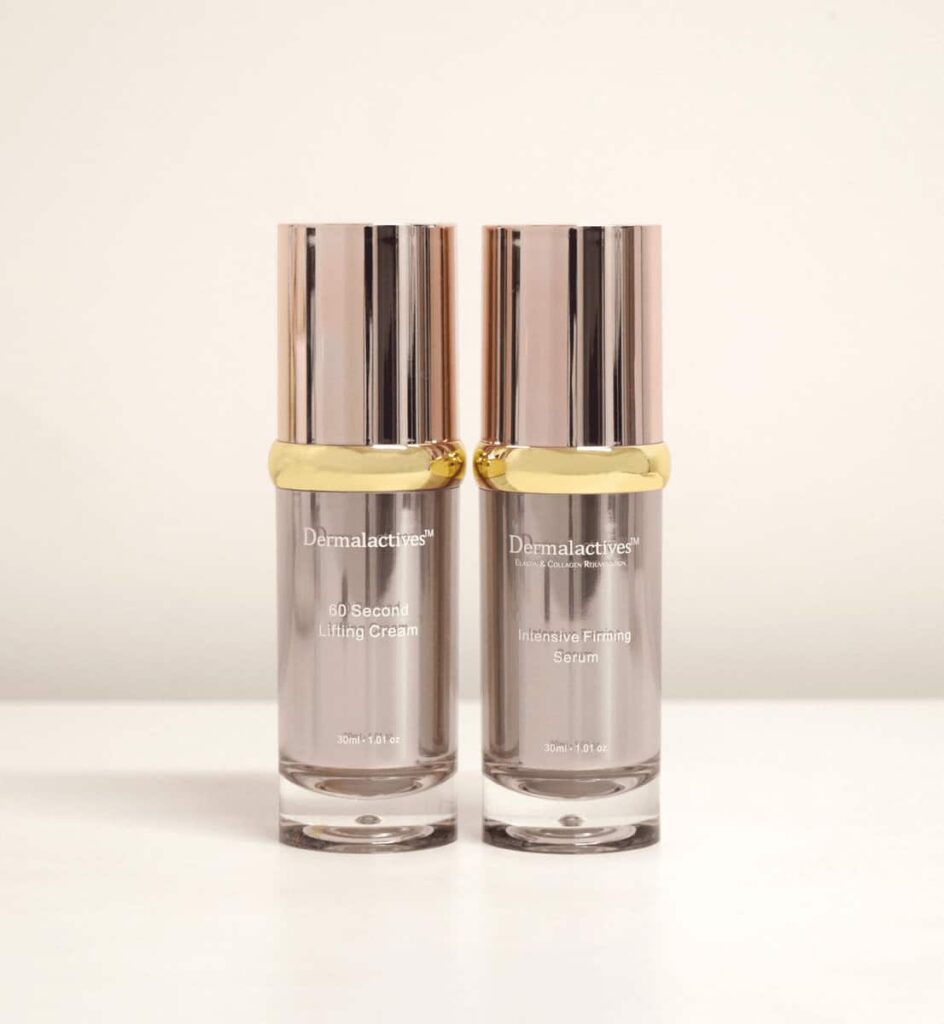 Dermalactives company is marketing many products for men and women, facial mask and body care products. But their Illuminating Gold Set which costs 1500 USD is certainly the main one the company is pushing! It is marketed as if daily use of this product will diminish wrinkles, eliminating or reducing age spots and letting the skin shine!
Are Dermalactives Products Worth their Gold?
That's the main question! The day you notice a line or two here or there on your face, your main reaction is how do you erase them. Let's face it: no one wants to age at all! If we all know that's the way we will all take, it's still hard for us to accept dramatic changes in our face and our body! So we all want a time machine that will help us get back in time.
So when Dermalactives proposes us a "renewal and a youthful firmness", it's hard to refuse to this attractive marketing. And when we see that the prices of these products are 10 to 20 times higher than other skin care brands, we imagine there's a reason for this: these products are surely effective! As the saying goes: you have what you pay for!
In fact, there are a lot of promises linked to these products. But do they actually work? Dermalactives is not the only skin brand with these types of claims. But considering the prices they charge, you should be getting an effective product!  
Ingredients
One of the best way to test indirectly the effectiveness of a product is to look at the ingredients used and their amounts. The skin products contain Omega 3, Aloe, Collagen, Argireline (Acetyl hexapeptide-3), omega-3 and the usual vitamins A, C, D, E, D. So nothing extraordinary to justify these astonishing prices when we find the same ingredients in skin care products that cost one hundredth less!!
And unfortunately expensiveness does not always mean effectiveness! If you want to reverse aging or maintain your skin in good shape, don't believe cheaper is less effective! The truth is many cheap skin care products show better results than their relative expensive ones!
Consumer Reviews:
The other way to check the effectiveness of a product is to compile consumer reviews from various marketplaces like Amazon, Walmart, Ebay, Etsy etc… And again the "Dermalactives Reviews" from most of these online websites show a high percentage of negative reviews. This fact traduces the dissatisfaction of buyers from using these products.
Better Business Bureau (BBB) Reviews:
Go on the BBB website and search for Dermalactives! You will find many unresolved complaints. They are from customers looking to return their products or hoping to get a refund for a product that doesn't work. The company has not been able to help them.
Review of Dermalactives Website
Is the website screaming "scam"? First question is: how do clients contact the company? We noticed they have at list 3 ways to be contacted: phone, email address and even a contact form! Considering the price of the products, this a plus because I guess consumers may need to contact them often to get information, to return products and so on!
There are also many pages dedicated to Privacy Policy, Delivery information and Terms and Conditions. That's good because before buying any visitor can take a look at these pages and make an informed decision!
Dermalatives website provides a FAQ page where regular or first time visitors can access the most common questions and the answers to them is already available. There is even a working map on the Contact Us page!
List of Dermalactives Products
The company has manufactured about 50 products: 40 skin care items and 8 products to take care of the body itself. You guess it's difficult to make a list but you will find below the most sold ones. They are:
24K Golden Peel Mask
Dermalactives Spa Collection – White Tea – Water Lily
Nourishing, Exfoliating Body Scrub – White Tea – Water Lily
Replenishing Body Butter – White Tea
Dermalactives 60 second lifting cream
Dermalactives 60 second lifting cream
Dermalactives 7 in 1 led light therapy mask
Dermalactives eye cream
Dermalactives purifying facial peel
Dermalactives salt scrub
Costs of Dermalactives Products:
As we said earlier, the products are expensive. The cheapest ones cost 75 USD. There is a LED device that cost over 4000 USD!
Where to Buy?
Dermalactives products are difficult to be found on online market places. A few have been sold on Amazon in the past but now they are in back order or unavailable. You can try Ebay and maybe you will be luckier. Therefore if you want ot buy these products, your best choice remains their website.
Conclusion
It's hard to recommend the Dermalactives products! The prices are super high and there are no guarantee that the products will work as promised. And also considering the online reviews which are not good at all as well as the complaints on Better Business Bureau, we cannot suggest you to try these products!
There are many other skin care brands which are a lot cheaper that you can try. If you find one that works for you, please do not hesitate to let us know!