Flexcin Supplement Reviews: Benefits and Side Effects
Overview
Flexcin for joint health and mobility was manufactured and distributed by Flexcin International. In 1997, Tamer Elsafy began manufacturing and marketing supplements. He desired to formulate a product that can help fight the symptoms of arthritis and joint pain that can come with age or other health issues.  
In 1999, under the guidance of doctors and nutritional experts, Tamer developed a supplement formula so pure and effective that it would relieve the symptoms of joint pains and arthritis. In fact, he discovered an effective ingredient: CM8 and decided to make of it the main ingredient of his comprehensive formula. The CM8 contains Cetyl myristoleate, an important ingredient that was created to be effective in preventing arthritis and joint suffering.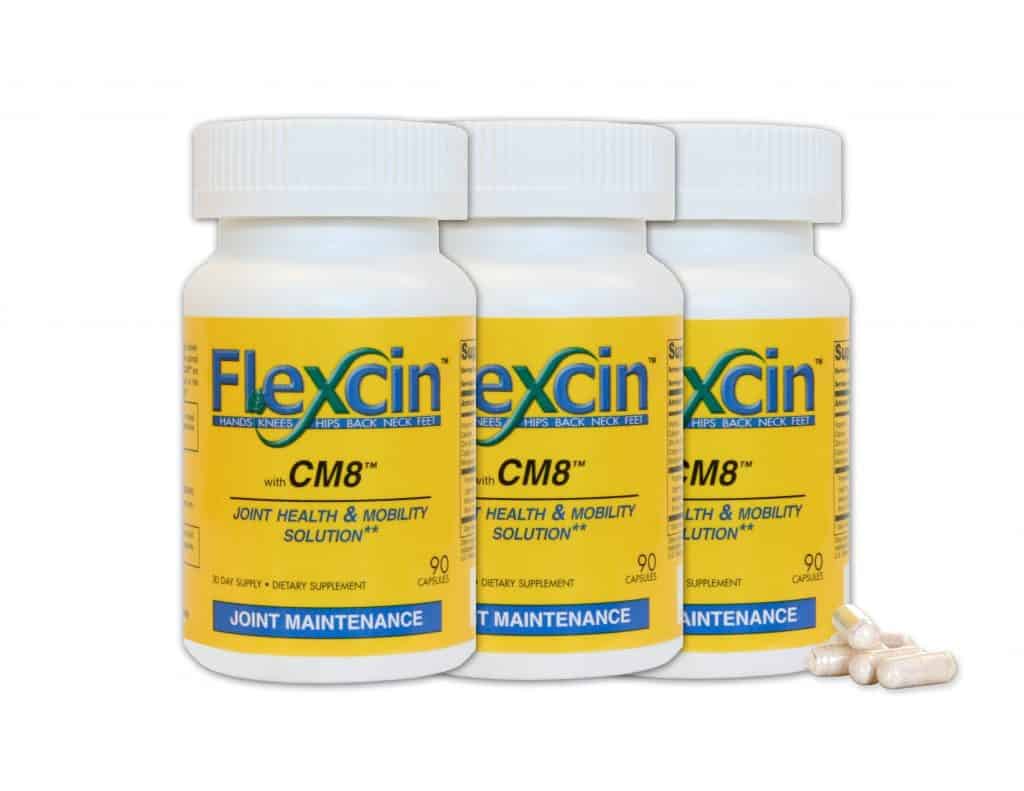 After his grandmother who was in a great deal of pain decide to give the joint product a try, Tamer discovered how powerful his incredible formulation was when he witnessed his grandma beginning to enjoy again every minute of life.
In 2000, Tamer founded Flexcin International; he developed this supplement formula to help everyone who suffer from joint pain to experience the benefits of a pain-free-lifestyle. Flexcin International also manufactured an entire line of arthritis supplements and products for people and pets.
Flexcin Reviews:
If you are suffering of back pain, hip pain, tennis elbow, Soreness of the ankles and feet, swelling of the joints, tenderness in the joints, throbbing sensations in joint areas, wrist strain, repetitive motion injuries, neck discomfort, bursitis, gout, fibromyalgia, Flexcin will be your best alternative. Flexcin is a health product, which benefits individuals with joint issues.
Issues include daily joint pain, repetitive motion strains, sports injuries, arthritic suffering…etc
Flexcin has been developed and tested for individuals who suffer from joint pain. It has been used by community members and has shown increasing benefits to the users.
Health benefits:
They include decreased hip pain, knee discomfort, ankle pain, back soreness, and neck aching. Individuals suffering from arthritis are seeing relief in their day-to-day lives.
Computer operators are seeing improvements in their hands and joints. Endless hours of typing have become easier for these individuals. Repetitive hand movements are no longer an issue for these folks. 
Sports enthusiasts are seeing great results with the product when used regularly. Many times athletes spend long hours training and sporting. The potential for injury is increased and joint pain is relevant to the field of interest. A large number of athletes have been able to train consistently without joint pain and aching.
Flexcin Ingredients
MSM (Methyl Sulfonyl Methane): Is an organic molecule found in nature that helps increase the rate of Sulphur absorption
Hydrolyzed Collagen Type II: for nutritional support
CM8® (Cetyl Myristoleate): Pain reliever and anti-inflammatory agent. An ester of myristoleic acid.
Glucosamine: Is important for joint health, It is important in the construction of cartilage and aids in the absorption of Sulphur cartilage.
Bromelain: An anti-inflammatory used to fight the inflammation that causes increases joint pain.
Enzyme Blend: A proprietary blend of enzymes that helps with reactions important to the metabolism.
Vitamin C (150mg): anti-inflammatory.
Calcium (20mg): It is important to the formation of bones and teeth.
Manganese (10mg): often used with glucosamine to increase its effectiveness.
Copper: Often used to treat arthritis symptoms.
How does it work?
Anti-inflammatory:All Flexcin formulas include powerful, natural anti-inflammatory ingredients. Flexcin with CM8 is a powerful product, after a short period of regular use (4-5 week) the symptoms disappear altogether instead of just being reduced
Lubrication:Joint pain is caused by repetitive stress on the joints. All ingredients have powerful lubrication properties that help all joints to move freely and reduce wear and tear.
Rebuilding Tissues: The symptoms of joint health can be treated easily; the Flexcin formulas are tested to re-build joint tissue for long lasting results  
Clinical Studies?
There are no clinical studies available to confirm the beneficial effects of Flexcin.
Flexcin Side Effects
There is no mention of side effects on the site of the manufacturer. Flexcin is all-natural there should be no side effects or interactions with other medications you may currently be taking.  However, the Glucosamine may cause the related issues:
Stomach related issues
stomach pain
a feeling of heaviness in the stomach
constipation
diarrhea
gas
indigestion
nausea
upper abdominal tenderness
vomiting
High blood pressure
Shellfish allergy
High cholesterol
Sleeping issues
Recommended dosage
It is recommended to take three capsules daily with a full glass of water. If joint pains are severe, take two capsules to three capsules per day in the initial stages or until your condition becomes much better.
Pros's  
Stimulates lubricating fluids in joints
Supports cartilage repair
Increases mobility
With its anti-inflammatory properties provides fast-acting relief without the wait
100% money back guarantee
No side effects
All-natural ingredients
87% of buyers who experienced the supplements left positive reviews in their comments (4-5 stars)
Con's:
Takes too long to show results
Refund of the purchase price, less shipping and handling
The list of ingredients does not include all of their amounts.
Where to Buy Flexcin?
Visit https://flexcin.com/ joint-supplements to buy it today at best value. There is a best value for new customers:
$ 39.95 Flexcin Joint maintenance /Regular strength
$89.90 Flexcin starter pack / For New users! 3-month supply
The manufacturer offers a 90-day-money back guarantee
Many good deals at this moment to stock it up! You can also find it for sale on Amazon, CVS, Walgreens and Walmart.
Final Words: does Flexcin Joint Supplement Work?
Flexcin for joint health and mobility is a powerful supplement for whoever suffer from arthritis and other joint pains, this supplement contains ingredients that have been associated with better health, as well as anti-inflammatory agents. 
Flexcin supplement has more than 20 years on the market; this product has a track record of success. It has done so much benefit to those who use it to relieve their problem of arthritis or other joint pains.  
Although according to some customers, this product is not efficacy enough as many say it is. However, 80% of clients at some sites, such as Amazon, say they have found a lot of relief, and others say that their joint pain has completely disappeared.
What can be deduced?
Flexcin is a supplement that contains an exclusive blend that does not include the amount of its ingredients. This is essential because many of these ingredients need to be taken at a certain dosage for a better result. This lack of information can leave customers a bit confused about their choice to buy or consume.